shiv kotecha
recent:


Nov. 19, 2020: "Joy and Share" radio hour with Joey Yearous-Algozin:






The Switch (Wonder, 2018)


Purchase @ Wonder or SPD

Shiv Kotecha does for the word fucking what Catullus did for the word kissing. In The Switch, desire travels everywhere to its surprisingly specific destinations—to body parts aroused in their fashion, like a saint's skull or a cock. Here love is as artificial as a courtly dialogue, and deeply felt, even spiritual. Here the arousal of the fragmented body is contemporary practice. Is one allowed to write such a book? Among the spectacular effects and turns and startling intimacies in The Switch, the most daring is its no-holds-barred pursuit of love.
―ROBERT GLÜCK

Shiv Kotecha's deeply weird and affecting book The Switch works with prosaic measure and measured prose to compress the mess of everyday sexual feeling, the mess of everyday relating (both on and off the planet of the genital) into these often perfect lines
―HANNAH BLACK

"Poetry is never lost in a politics of refusal, and even in the most flirtatious behavioral studies of human and nonhuman desire for connection ... Kotecha's ballast is clearly his feeling for the radiance of form-switching itself"
―CORINA COPP, BOMB

"it consists of an easy-to-read novel."
―CLARA LOU, Book and Film Globe

Press:
Corina Copp, Editors Pick at BOMB
Charlie Markbreiter at The Believer
Rachel Vallen's Winter Poetry Select at TANK
Clara Luo at Book and Film Globe
Katherine Beaman at Common Place Review

Book design: Holly Melgard



EXTRIGUE (Make Now Books, 2015)





EXTRIGUE is a shot-by-shot rendering of Billy Wilder's Double Indemnity.

Purchase @ SPD or Make Now Books

Like a post-conceptual Pompeii, Shiv Kotecha's EXTRIGUE archives the rubble of language as forensics. Freud's Little Hans meets Lynch's Mullholland Drive. EXTRIGUE works repetition and perception in order to collapse time. Through his numbered sequencing of the human stain, Kotecha pulls us into an endless present: "345. A FLAME THAT FADES INTO A PHONE A MAN THAT FADES INTO A MAN A LAMP THAT FADES INTO A BOOK SMOKE THAT FADES INTO A HAT." EXTRIGUE, outside of self, is the canoptic jar of the now.
―KIM ROSENFIELD

"If the items (numbered) in EXTRIGUE resemble Objects, Rooms, and Foods we've grown accustomed to in Stein's Tender Buttons, it is because PAUSE is the tenderest button of them all. She never could have known."
―DIVYA VICTOR, The Poetry Foundation
Book design: Holly Melgard

some prose
some short-form

Shiv Kotecha is the author of The Switch (Wonder, 2018) and EXTRIGUE (Make Now, 2015). He writes about art, film, and literature for frieze. He's written elswhere on the internet, holds a PhD in English from New York University and teaches poetry for NYU's XE Experimental Humanties Deparment.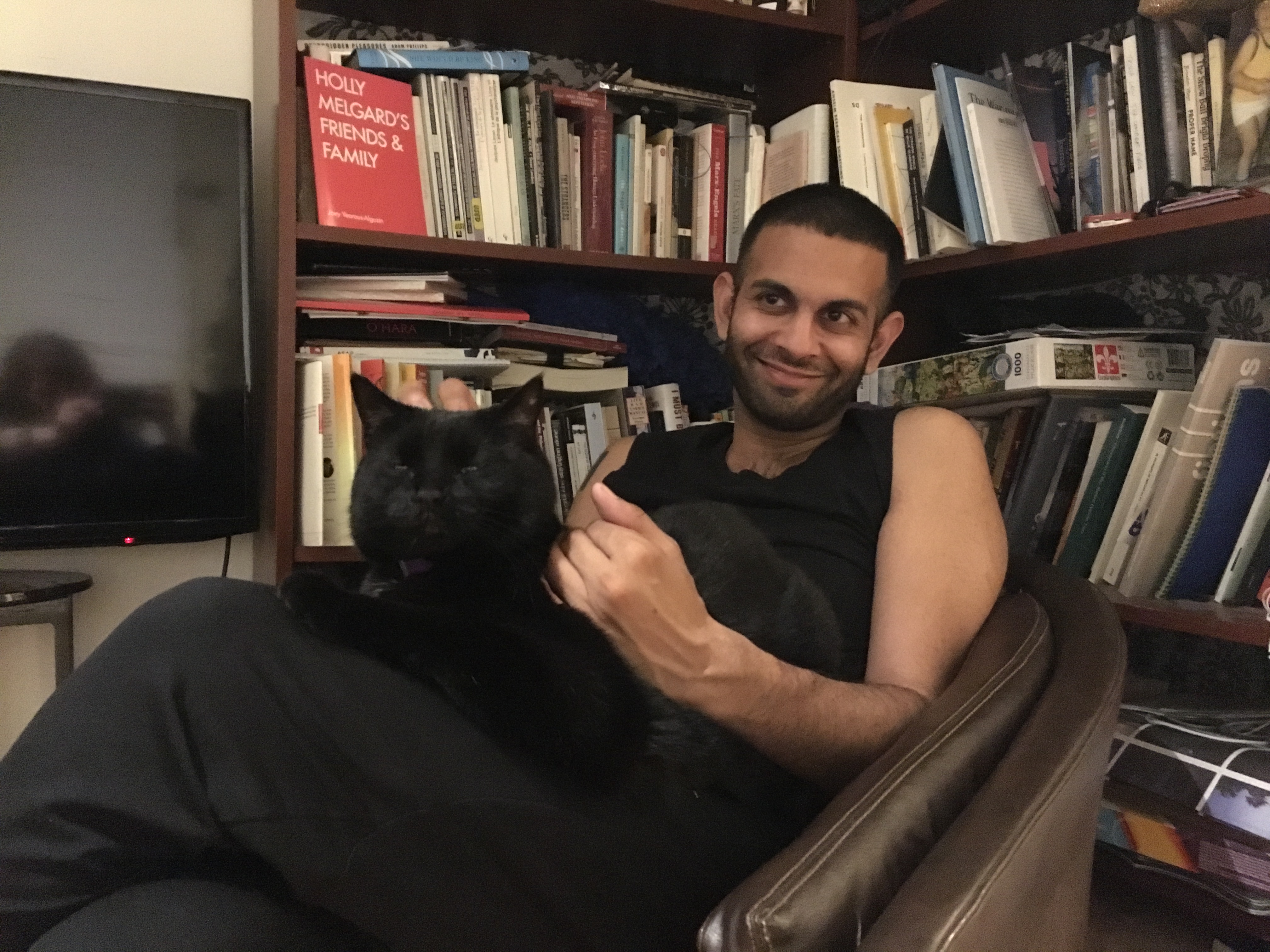 photo credit: holly melgard